Featured Growers

Harry's Berries is a fourth generation family farm located on the fertile Oxnard Plain in Southern California. Harry Iwamoto immigrated to the United States in 1958 and by 1967 was able to lease 100 acres in Oxnard. He started growing strawberries including super sweet Gaviota and sweet/tart Seascape varieties.
Today, Harry's strawberries are famous throughout Southern California for their unparalleled flavor and sweetness. Initially, he sold his produce through wholesale channels and a roadside stand near the property. In 1986 Harry's Berries began selling exclusively at local farmer's markets in Santa Barbara, Ventura and Los Angeles counties, where the farm's berries consistently sell out, despite their premium price.
Harry and his family also cultivate and market glossy Blue Lake green beans, tender and tasty haricots verts, wax Romanos, several varieties of specialty tomatoes as well as other fruits and vegetables that are sought out by professional chefs and passionate home cooks alike.
Harry's Berries uses only organic N.O.S. approved materials and practices and have refrained from using methyl bromide fumigation or any other synthetic chemicals since 1998. The 40 acre farm is now operated by Harry's daughter and son-in-law, Molly and Rick Gean. All of their adult children are actively involved in running the family farm.
---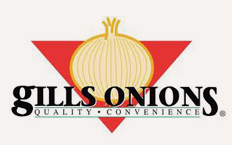 Steve and David Gill come from an established, multi generation farming family, who grow onions, peppers and tomatoes, among other crops. In 1983, a salsa company wanted to replace the dehydrated onions they had been using in their product, with fresh onions. The Gills started peeling, trimming and cutting the onions they had been growing, and their fresh cut-onion business began.
Today, Gills Onions enjoys a reputation as a top supplier of cut onions in every form—from sliced, to rings, slivers, diced, whole peeled, pureed and specialty cuts—for foodservice, industrial and retail markets throughout North America. As both grower and processor, they are in control their product at every step of production from field to customer.
Gills Onions cultivates fields in California's prime onion-growing regions including Fresno County, Monterey County and the Imperial Valley. Their headquarters and processing plant are located in Oxnard, CA. Gills selects the best onion varieties adapted for each of the regions within California where they grow. Every season, in every location, they test new onion varieties, always searching for the ones which ultimately become even better fresh-cut onions. Not long after building their proprietary equipment to peel and cut onions for their plant in Oxnard, Steve and David realized the trimming and peeling process created a very large amount of waste. As conscientious stewards of their land, they developed technology that would convert 99.5% of that waste—up to 150 tons daily—into clean energy and cattle feed, making Gills Onions not only a pioneer in the fresh cut vegetable business, but in energy efficiency and sustainability as well. Gills Onions in 1983.